I Confess
... It's Joe's (the Beau) birthday next week and i have yet to buy him anything - i always try and get that "
wow
" gift but i'm coming up empty - and i feel pretty darn crappy about it - after 8.5 years you'd think i know a good '
wow
' gift
(sorry babes, hopefully i'll come up with something, but it's not looking good, not even foolin' with ya)
Just Because
... I send out hand written letters, sometime i'll even include a lil artwork, to friends just because i think of them and i think hand writing a letter is always more personal then a text or phone call, i like to think they have a real big smile on when they open the mail :o)
I Confess
... March 22, 2011 changed my world
(when i got my BRCA diagnosis)
- i never thought i would
ever
say this - but i'm ready to say '
yes
' and have a '
bun in the oven
' - it's crazy what cancer will do to a person -
(who am i? - cray cray i know) -
and yes i'm sh*t scared about it '
happening
'
Just Because
... I will show up to work in sweats and some really unprofessional outfits at times (boyfriend jeans/yoga pants/Uggs), and well it's really just because i can, if i know no one will be in the office and i won't be meeting with anyone, why not?
I Confess
... One of my pet peeves is when people wear sunglasses indoors or at night, i mean really, do you need your shades on when your eating in a restaurant or grocery shopping? - and if the street lights are on then you don't need sunglasses, no really, i'm telling you the truth - i will make fun of you, just sayin'
Just Because
... Given' the opportunity i will watch Captain Ron, Jumanji, and The Holiday on repeat - mixed in with Finding Nemo, Cars, and Ratatouille - and yea i kinda' might do this in my pajamas un-showered on a Saturday/Sunday when Joe is working OT - just because i can and no one is looking
(friends: please don't ring my door bell that day, i will be a hot mess, i know you don't care, it's just for your visual safety)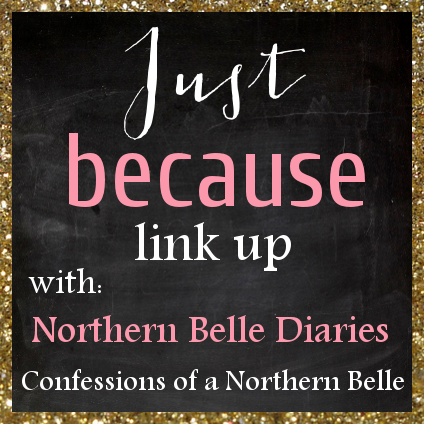 DO YOU HAVE ANYTHING TO CONFESS?
OR SAY JUST BECAUSE?